Humans have a natural tendency to compete. Most of our actions are driven by the drive to be at the top. And in a situation where another person can be a hurdle or even an obstacle in your path, competition is bound to happen. And when this person has a skill set that matches yours, that competition is fierce. No matter what level of skill you have, your ultimate drive is from the fact that you want to move up and away from this other person.
This might be dangerous at times since rationality is thrown out of the window in such scenarios. However, when this competition is bound by rules and is part of a sport, it makes for a real fun watching experience. People live vicariously through such fierce battles.
MotoGP has witnessed its fair share of intense battles throughout its 67-year history. These battles have been for that extra point which would decide the championship to ones that don't have a lot of significance to the points but it's just two people trying to prove themselves that they are faster. Now with that being said, let's relive some of the most iconic racing duels that have made MotoGP what it is today.
Kenny Roberts VS Barry Sheene
An American and a Brit battling it out at the British GrandPrix, Silverstone, could it get any better?
British GP: Silverstone, 1979
1970 saw a lot of regulation changes in the motorsport racing world in favor of the drivers. And this particular GrandPrix, Silverstone 1979 was also broadcasted on tv, which was a rare event back then. But thank god it did because now we can relive the iconic battle between the two all-time greats.
With Kenny breaking Barry's winning streak of 1976 and 1977 by taking the 1978 championship, the competition amongst them was fierce. Kenny was all set to take up the 1979 title too and Barry had no chance at it. This didn't mean Barry went easy in this race, as they say, a guy with nothing to lose is much more dangerous.
The fact that it was Barry's home circuit and that he hadn't managed to secure a win there for the past two years also added to the pressure.
Race week wasn't off to a great start for Barry, qualifying 5th and not being able to push through corners as fast on his Yamaha as the Suzuki Kenny rode on.
This only got on his nerves and caused him a serious amount of frustration.
And one way to deal with frustration?
Booze.
And booze they did, Barry accompanied by a few friends went down for drinks to try and calm down.
On the other hand, Kenny knew very well that Barry was not gonna go down without a fight, it being the home circuit and all. Kenny had his own set of problems when an oil cap busted and thus had to go back to the pit during the sighting lap. He had to make do with oily gloves.
Most of the race had Wil Hartog, the Dutchman in the lead with Kenny and Barry close behind. The three had a fantastic game of cat and mouse with each shifting positions like a gear happy junkie.
Towards the 27th lap, Kenny managed to push through to 1st and Barry to 2nd leaving Wil in 3rd. After diving inside on a right corner Barry managed to move to 1st and this excited the home crowd, so much so that Barry decided to do this,
Yes Barry Sheene, after overtaking Kenny Roberts decided to turn around and wave at the American.
Although it is debatable if he just waved or if he flipped the bird to say, " This is my town F**k off! ". Whatever he did, he probably did mean the same.
Americans have a thing about being asked to F**k off. They don't take it all too well and thus when the duo came across the tail-ender, Kenny capitalized on Barry's mistake when he tried an outside line to pass a tail-ender. This caused Barry to lose a lot of distance. This was the final nail in the coffin after which Barry never could manage to overtake, with only half a lap left. Kenny finished just 1 meter ahead of Barry.
Now that was one hell of a race. Barry was both angry and excited that he came so close. This win helped Kenny secure his second championship and would further go and win the next year too.
This race continues to be one of the most exciting races in MotoGP even after 40 years and countless races.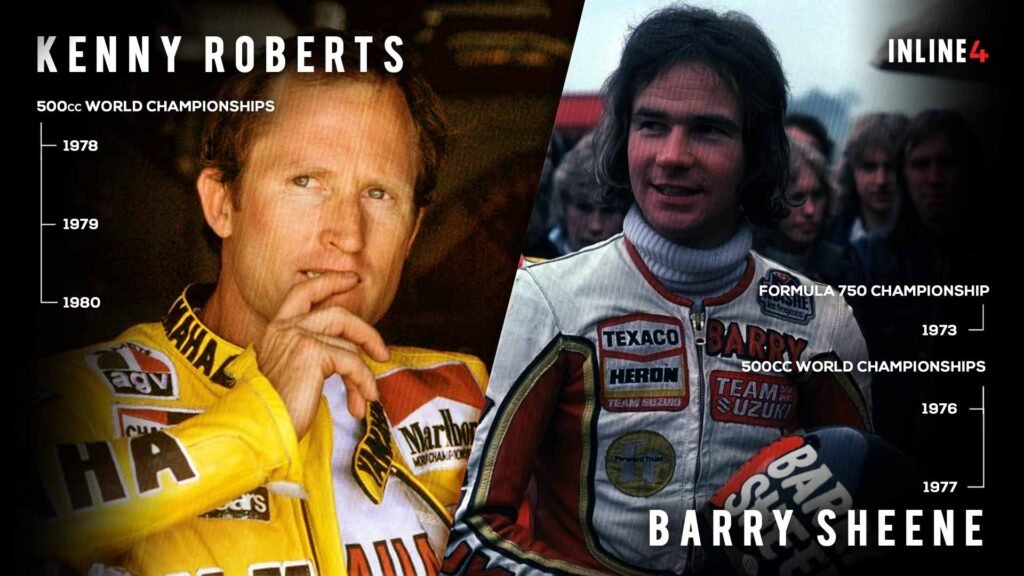 Steve Hislop VS Carl Fogarty
Isle Of Man Senior TT: Isle of Man, 1992
The Isle of Man TT. One of the most dangerous events in the world. Like seriously. Just watching this is disconcerting. You need balls of titanium to participate in this. Two people with such said balls of titanium, were two British folks, Steve Hislop, a Scott, and Carl Fogarty, an Englishman.
Now if that isn't a setup for great drama, I don't know what is.
Their battle at the 1992 Isle of Man TT continues to be one of the greatest rivalries as of today. After almost 2 hours of racing, the duo could not be separated by more than 10 seconds. That's some commitment.
As equally matched as they were on the track, Steve and Carl were quite the opposite personalities. Carl, unabashedly vocal about his skills, and a seriously skilled racer never really made friends on the race track but he was pretty vocal about his respect and admiration for Steve.
Steve on the other hand, silent, soft-spoken but an absolute monster on the track. The respect was mutual in this case.
Just a year ago, both had competed as teammates for Honda at the 1991 TT, with Steve taking the win. While Steve was dumped from Honda for another rider, things looked better when Yamaha promised a contract. However, this deal fell through and Yamaha went ahead and hired another rider.
Guess who?
Carl freaking Fogarty. Ouch. Now that ought to burn.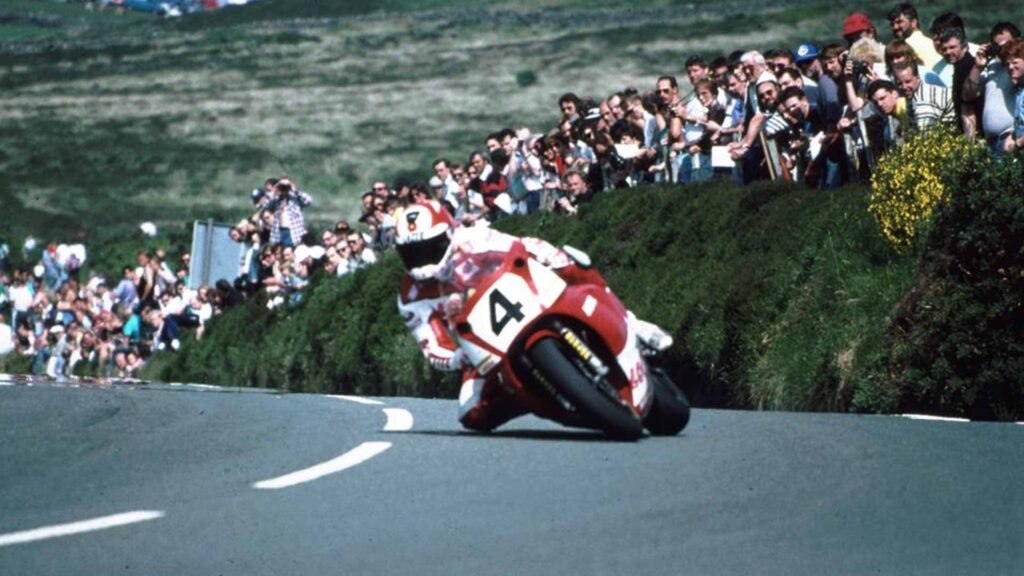 Now enter the sidekick who'll save the day, Norton. With Steve a free agent, they jumped on the chance to have a multiple TT winner on their motorcycle.
Now with their new bikes, Steve on the Norton and Carl with his Yamaha, the race was bound to be an exciting one.
The day of the 1992 TT was blessed with clear skies. Steven starting at 19 battled his way through traffic to move past Carl who started at number 4. With the Nortons brilliant speed, Steve made it to the lead with a healthy 7.4-second lead.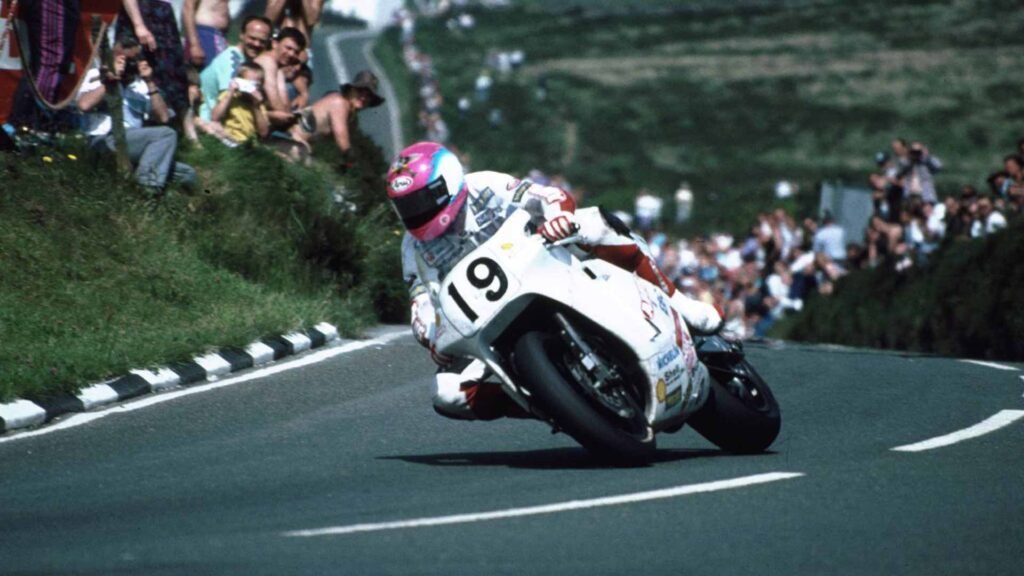 The contrast in the racing style could be easily witnessed. With Steve opting for a more elegant follow the line approach versus Carl who more handled his motorcycle like an enraged hungry bull.
However, a pit stop error (we're looking at you Mercedes) by Steve gave Carl the much-needed opportunity to close down the lead to a close one second.
With both the motorcycles beat and bruised, the last lap proved why both the racers were considered to be one of the greats. Eventually, the Norton proved to be more resilient crossing the finish line 4.4 seconds ahead.
Both drivers acknowledged that this was one of the toughest races they've been in.
Steve goes ahead to win the next two TTson the Norton, whereas Carl makes history by winning 4 consecutive superbike championships.
Considering how dangerous the TT was, especially 3 decades ago, this duel, even to this day is nothing less than bonkers.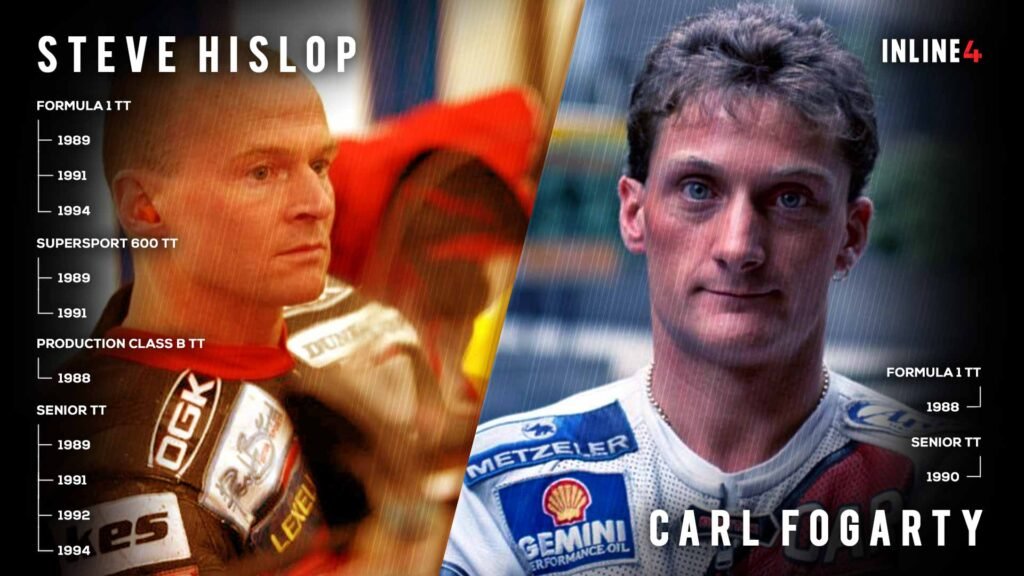 Wayne Rainey VS Kevin Schwantz.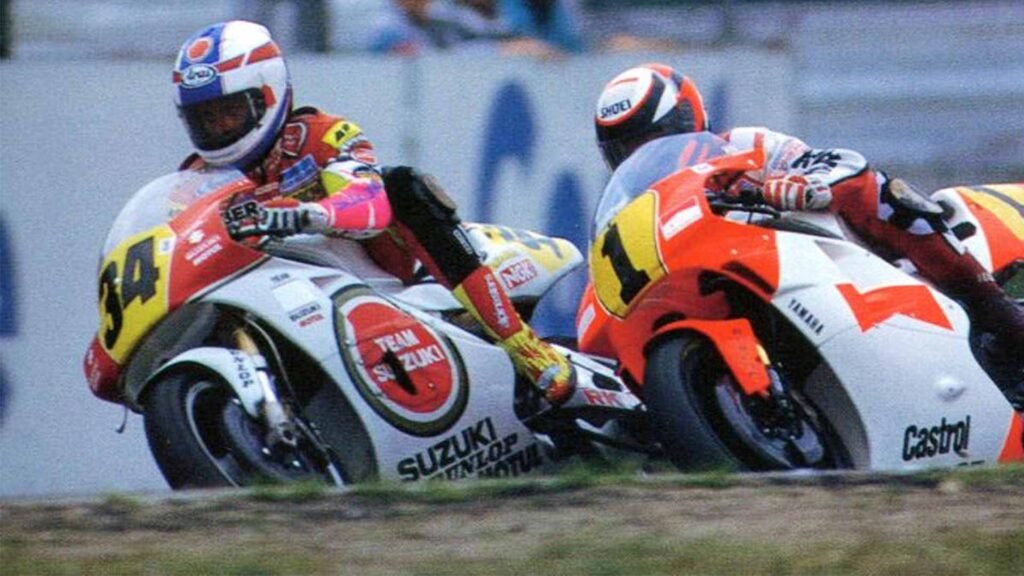 Not all duels have to necessarily create a rivalry. That's exactly how the competition was amongst these two Americans. What started in the superbike series in 1987 lasted for about 6 years. Longer than what most relationships last these days.
The duo first met in the 1987 Superbike Championship, where Wayne came out top but only after an intense racing season. This went on well for the rest of the year and when Wayne went ahead to join Yamaha for the 500cc class, and Kevin joined the competition, Suzuki.
From 1990-1992 Wayne won three consecutive 500cc World Championships, with Mick Doohan and Kevin close behind.
Italian GP : Circuito Internazionale Santa Monica, 1993
However, 1993 saw one of the most exciting seasons of racing. Wainey was on track to win a fourth title when he entered the 12th race of the season at Italian GP with an 11 point lead over Kevin.
However, this was not meant to be.
Wayne Rainey suffered a career-ending crash when he slid into Gravel Pit and injured his spine. This left him paralyzed from the waist below. Even though Kevin did not manage to win the race he got the much-needed lead and eventually went on to win the 1993 World Championship.
Now that's a tragic ending to an amazing 6-year rivalry.
Wayne never quit though, nothing could keep him away from MotoGP, he came back as a manager for Yamaha.
Kevin, being the romantic he is, raced for another 2 years, 2 seasons full of injuries and he realized that racing was not fun anymore, ever since he lost Wayne. That's why he quit after the 1995 season.
Even to this day, Wayne and Kevin continue to be good friends.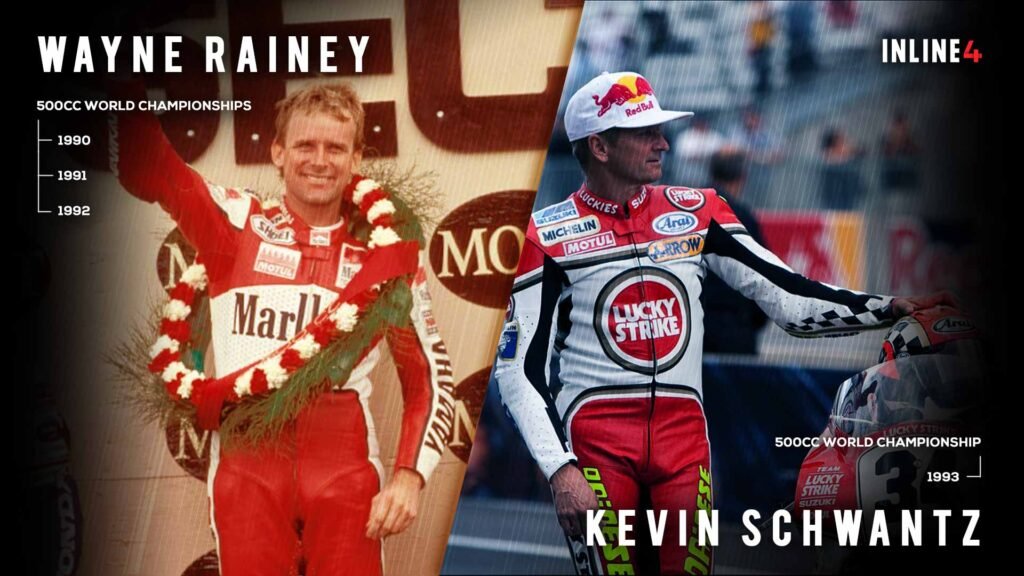 Valentino Rossi VS Marc Marquez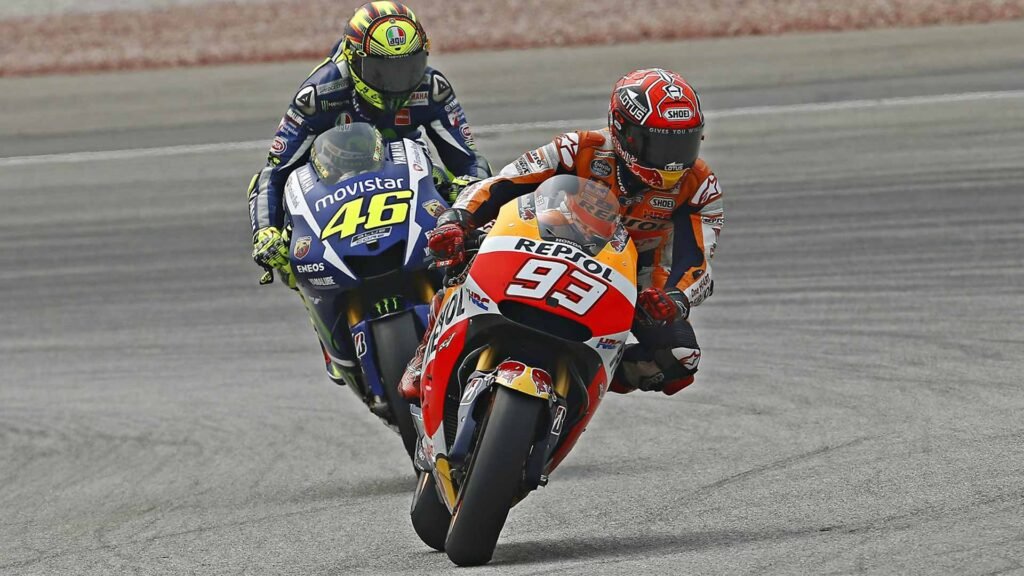 Rossi, The doctor, number 46 and 7 time GP champion, and the young gun on the block, Marquez have had their fair share of face-offs. It makes sense though, you've got an established racer, considered one of the best up against the rookie who won his first two championships back to back.
Argentina GP : Termas De Rio, 2015
Marquez got off to a brilliant start and was almost 4 seconds at the top. However, in lap number 22, Rossi caught up to him and forced Marquez to brake heavily on a turn after which Rossi came out first, Marquez, however, tried to push back in but ran into the NO.46 rear tire causing him to skid and slide. Marquez made a quick jab towards the bike but was well too late and had to retire. Rossi went on to secure a win and Marquez ended up with no points.
In situations like this, it's easy to throw names around and blame people, but once you look close into the events leading up to the crash you can almost tell that Marquez was at fault thus jeopardizing himself and his position.
Dutch TT: 2015, Assen
With Rossi gaining his first pole in almost a year, he got off to a great start maintaining the lead throughout the race. However towards the end, Marquez got up real close to the doctor, with just two more turns to go, Rossi went in a little too wide thus allowing Marquez to slip in, but not enough since Rossi came back in the neck to neck, thus colliding and sending Rossiover the gravel, however, Rossi being Rossi managed to just pull throughout of the gravel to cross the finish line just ahead of Marquez thus winning another intense duel. Marquez had to settle for a hard-fought 2nd.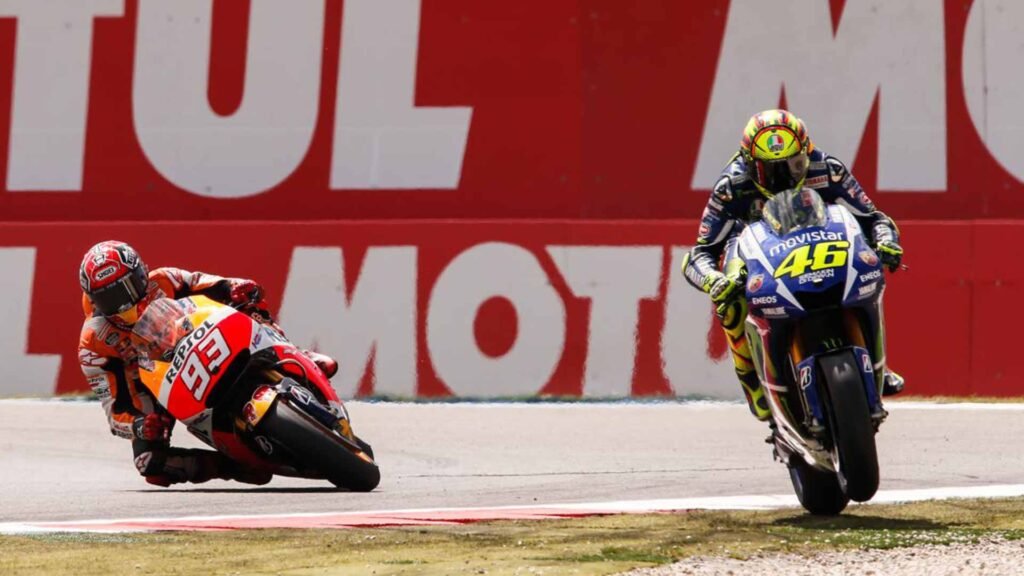 Malaysian GP: Sepang, 2015
2015 turned out to be a real eventful year for the duo with them once again clashing at the Malaysian GP. This was probably the worst of the worst when the rivalry became apparent and both drivers were not afraid of showing their intent.
With both drivers moving in and out of the third position, things got heated in the 7th lap, when Rossi, on an inside line deliberately slowed to push Marquez wider, with him even turning back to look at Marquez, this caused Rossi to lose balance and thus collide with Marquez. Rossi's knees clashed into Marquez's helmet thus sending Marquez to spin and fall. Marquez remounted but had to retire from the race after heading to the pitstop.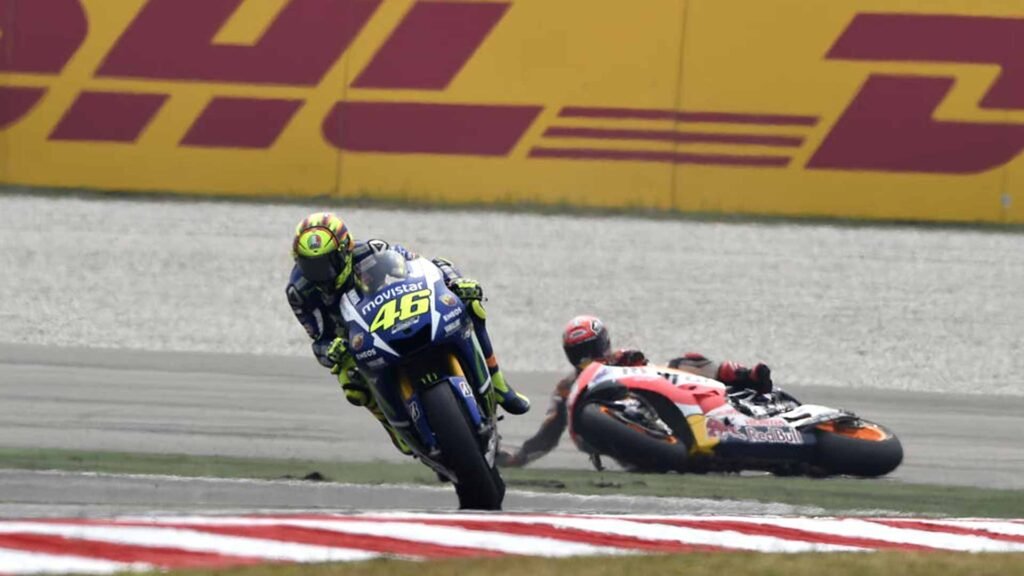 Rossi finished 3rd but was awarded a penalty. The drivers also had a heated exchange post-race with both receiving a lot of criticism from fellow drivers and the MotoGP world. Lorenzo, Rossi's partner at Yamaha also criticized his behavior.
However, Rossi's fans were not having any of it with them booing Marquez and Lorenzo and went as far as making threats against them both thus forcing them to hire security.
However, towards the end of the season, both drivers seemed to makeup and this did seem the case for a couple of years until…
Argentina GP : Termas De Rio, 2018
With already a penalty awarded to himself, and having to start from the pitstop, he pushed through on his entry back in and tried squeezing on the inside even though there was no room, causing the doctor to crash and thus retire. Marquez received a further 30s penalty and ended up finishing 18 just ahead of Rossi.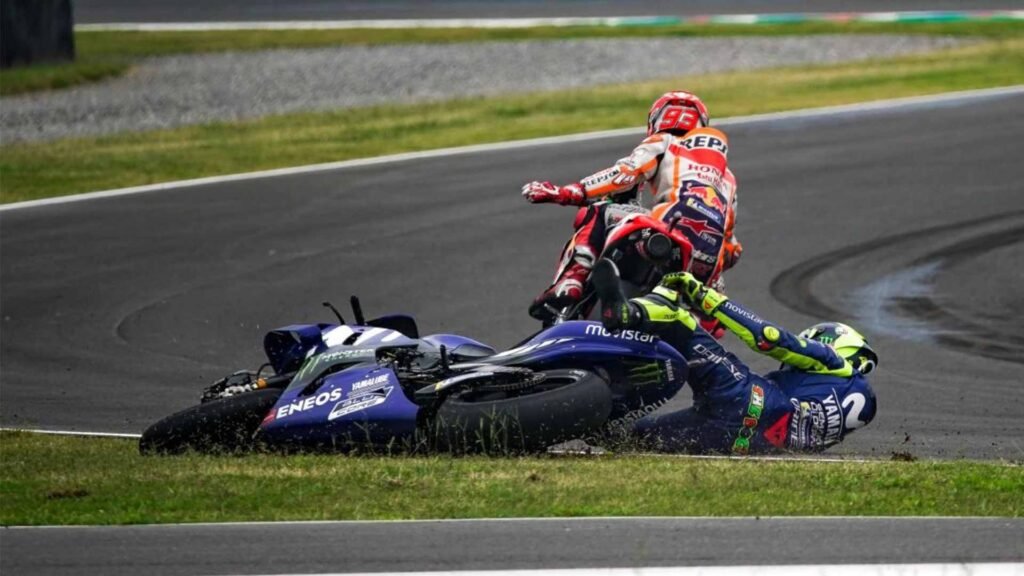 Rossi called out Marquez for this even going as far as to say that Marquez was destroying the sport.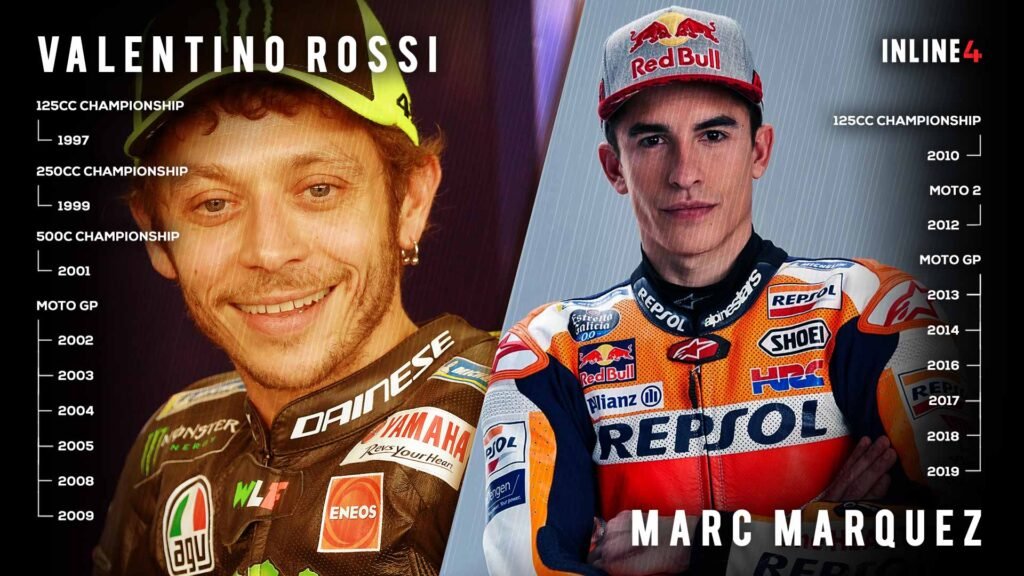 Conclusion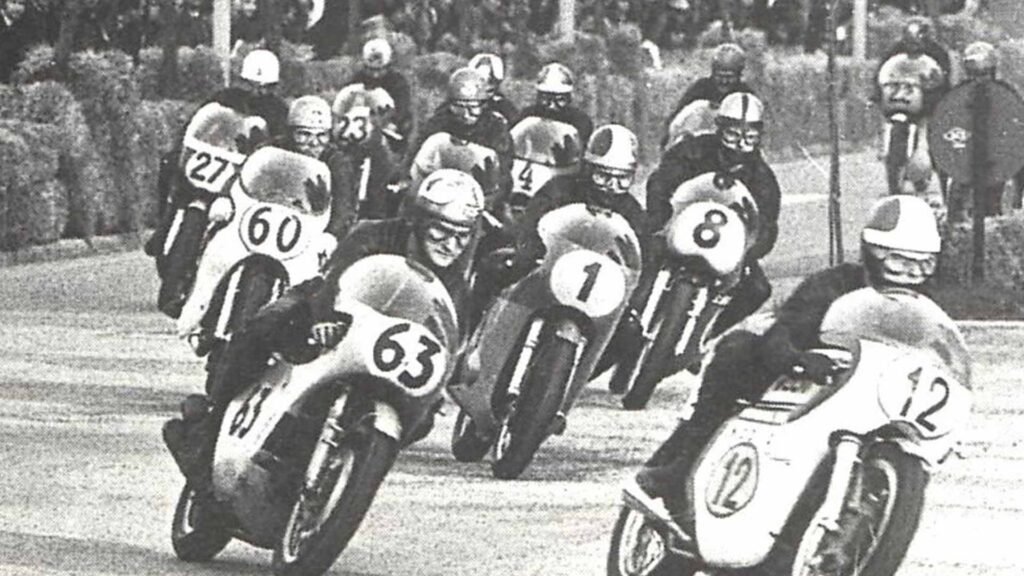 With Moto GP 2021 right around the corner and improved machines and drivers, rivalries, just as fierce or more, are probably brewing somewhere.